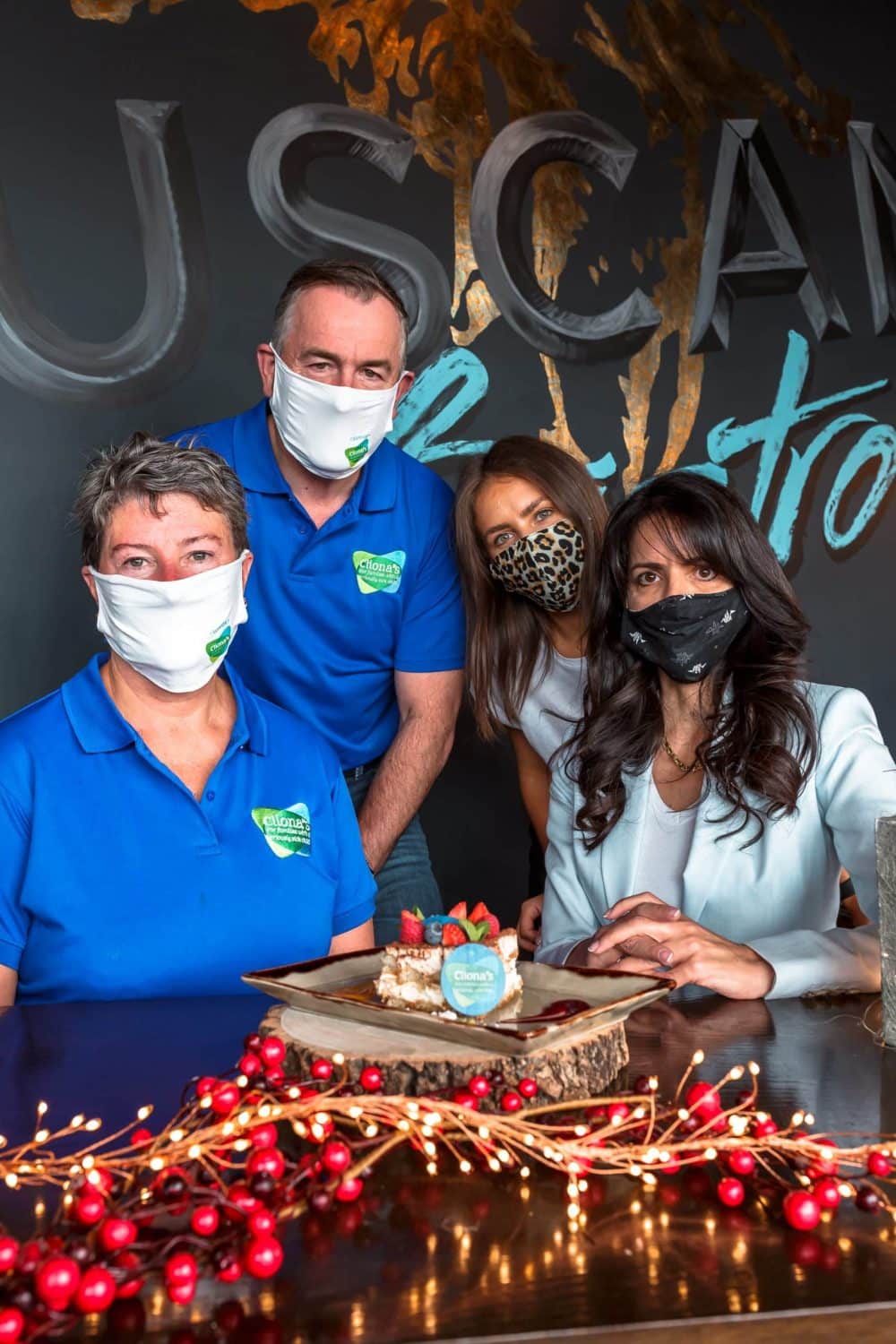 Every year Tuscany Bistro, which has restaurants in Castletroy and Killaloe, partners with a different charity to give back during the festive season. For 2020 we are delighted that their selected Charity is Cliona's.
In their discussions with the restaurant, Cliona's co-founders Terry and Brendan Ring, mentioned that Tiramisu was Cliona's favourite dessert. So, in honour of her, Tuscany Bistro is running "Cliona's favourite dessert" on their Christmas menu, with €2 from every Tiramisu sold being donated directly to the charity.
MM Cookies have also got involved and kindly provided a specially printed 'Cliona's' edible disc topping for the dessert.
In relation to the partnership with Cliona's, Sabrina Amodeo (Owner of Tuscany Bistro) said:
"It's great to see the Limerick community always pulling together especially during the Christmas period. It has been a difficult year for everyone and now more than ever we need to support each other. The work that Cliona's Foundation do is incredible and the support they provide is really heart warming and touching so it made perfect sense for us to select them as our charity partner this year."
The team from Cliona's attended Tuscany Bistro's Christmas Menu Photoshoot and the reveal of the Cliona's dessert.
"We are absolutely delighted and privileged to be the charity partner with Tuscany for the next few months said Brendan Ring, CEO & co founder of Cliona's "We personally love the Tuscany experience from the food to the atmosphere, to the wonderful staff they have. It's a real family in Tuscany and the fact that we are supporting families makes it a super match. The families we support are struggling with the non medical costs of caring for their sick child whether that be at home or in hospital. They would rarely have the luxury of dining out – so the fact that diners & customers of Tuscany can help them through a really difficult time is wonderful. Thank you to Sabrina & Maxine for this fantastic opportunity. In relation to the Cliona's Tiramisu Dessert – " It is just perfect , very special and absolutely melt in the mouth. Cliona loved Tiramisu and we know it will be a real success"
said Brendan.
An 'invisible dessert' option will also be available on the menus at both of Tuscany Bistro's restaurants for any diners that aren't Tiramisu lovers but who still want to be able to make a donation to Cliona's. Donation buckets will also be available in both venues along with a prominent donation link on the Tuscany Bistro Facebook page and Christmas menu. The fundraising initiative will go live in the Tuscany Bistro's Killaloe and Castletroy restaurants from mid October until the end of the year.
For more information on Tuscany Bistro's Christmas offerings and how the general public can support Cliona's Foundation, please visit www.tuscany.ie