All schools who register & participate will be included in a draw to win 1 of 2 prizes of sports equipment to the value of €1,000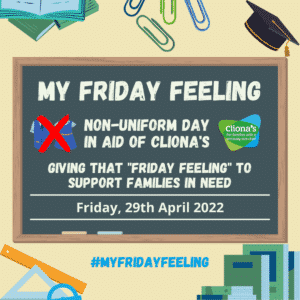 #MyFridayFeeling
Cliona's Foundation is asking for your school to join in the fun with our upcoming fundraising and awareness event, #MyFridayFeeling, aimed at all secondary school students across the island. Schools, like the community, comprise a diverse bunch of individuals with a variety of interests but everyone wants to feel good. So help us communicate #MyFridayFeeling to your secondary school students on April 29th by hosting a Non-Uniform day within your school.
We hope this unique charity fundraiser that will be organized by your Transition Year Students within your school and schools around Ireland. Giving your students an opportunity to learn new skills but also be in with a chance to win some great prizes for the students, teachers and your school. The fundraising day comprises two distinct components:
a Non-Uniform Day to raise money for Cliona's
Activities arranged by the TY students that give the sense of Feeling Good!
This fundraising day is essential to raise funds to provide families with financial assistance directly to parents of children with life-limiting or chronic complex care needs across Ireland to help with the non-medical expenses related to caring for their child.
Get your students talking about their #MyFridayFeeling
I get that #MyFridayFeeling when I …
My Friday Feeling comes when…
I love x and MyFridayFeeling is…
I have a #MyFridayFeeling when…
We would be so delighted if you could help us to go really big for April 29th.#MYFRIDAYFEELING is a really lovely opportunity for students, schools and Cliona's to work together to make a difference to the families Cliona's work with and to start a conversation about feeling good.
Register your school below and we will be in touch with you
Yo call also make a donation by clicking the button below