The Summer Newsletter which we thought might only be a few pages is finished and has highlighted for us and reminded us of the kindness, & generosity that has been shown over what has been a very challenging few months.
We were full of optimism at the start of the  year with a number of large fundraising events scheduled  but as we moved through February and into March  there were signs that there could be some changes to our plans in 2020.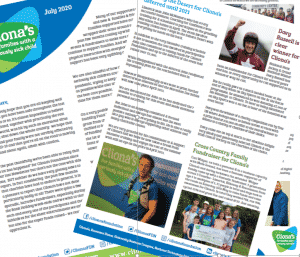 Then lock down came in March followed by the cancellation or deferral of event after event including  Golf classics, International cycles. the Regeneron Great Limerick Run and our flagship Dunnes Stores national bag packing event.  There was a concern that we would not be in a position to support the many families that were now under increased  pressure caring for the sick child during the COVID crisis.
But this Newsletter will give you an insight in to the wonderful support we have received from all sectors of the community, including families that we have supported.  Virtual events became the new reality and while we missed the physical interaction that comes with fundraising events we were really boosted by the fantastic efforts people made and the donations received.
The amazing support has enabled us to continue providing financial assistance to families all over the country caring for a seriously sick child. These families  are under significant emotional & financial pressure as they try and care for their child but also deal with the additional non medical costs. We have tried to give you an insight in to what they are going through in the Newsletter.
The next 6 months are also going to be very challenging but we are buoyed by the past 6 months and hopeful & confident that we will be able to continue  to support the families that need it.
Hope you enjoy reading the Newsletter which can be viewed in pdf format  here  or in digital format here.  If you would like a copy in the post please email us at [email protected]
Also a massive thank you to Cube for their sponsorship of the production of the Newsletter and their continuous support.
If you think you can do anything over the next 6 months to help us on a corporate or personal level  – whether that be organising an event, doing a facebook fundraiser or even participating in an event from which we could benefit we would love to hear from you and will help you in whatever way we can.