Would you like to make a difference to families of children with a life limiting illness.  Cliona's Foundation are looking for participants  to join their Purple Platoon for the Great Limerick Run on the 30th April
There is something for everyone and you can run, walk or crawl a choice of Marathon, half Marathon or 6 miles.
Get a group of family, friends, gym buddies, or colleagues together for what is a great day out and raise monies for families struggling with the non medical costs of caring for their child.
Contact Phil at 061 – 331333 or email [email protected] for your sponsorship pack or for further information .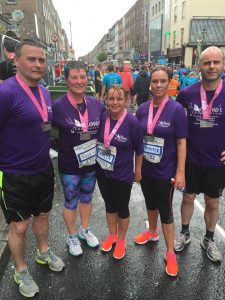 You can raise funds through the traditional sponsorship card method or make it easier by setting up your own fundraising page on everydayhero.ie . It's simple and can be done here
Check out the fun of the run on this link and get further information on the Great Limerick Run on their website  at http://www.greatlimerickrun.com/