The annual Ciara Mc Cathy Memorial Cycle organised by Boher Community Development Association  will take place this year on Friday the 31st May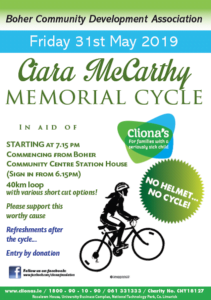 This is the 7th year of the very successful cycle and once again Cliona's Foundation are honoured to be the beneficiary. The Mc Carthy Family and their extended family, friends and community have been amazing supporters  since the passing of  7 year old Ciara seven  years ago.
The full loop is 40km, but for the less experienced there are plenty of shortcut routes, which makes it suitable for all fitness levels and ages! One of the highlights of the event is the fantastic  post cycle hospitality for all participants
Entry fee for the cycle is a donation of your choice at registration which commences at 6.15pm. The event will then roll out at 7.15pm.  All proceeds from the cycle will be donated to Cliona's Foundation.
This would make a great start to the bank holiday weekend.