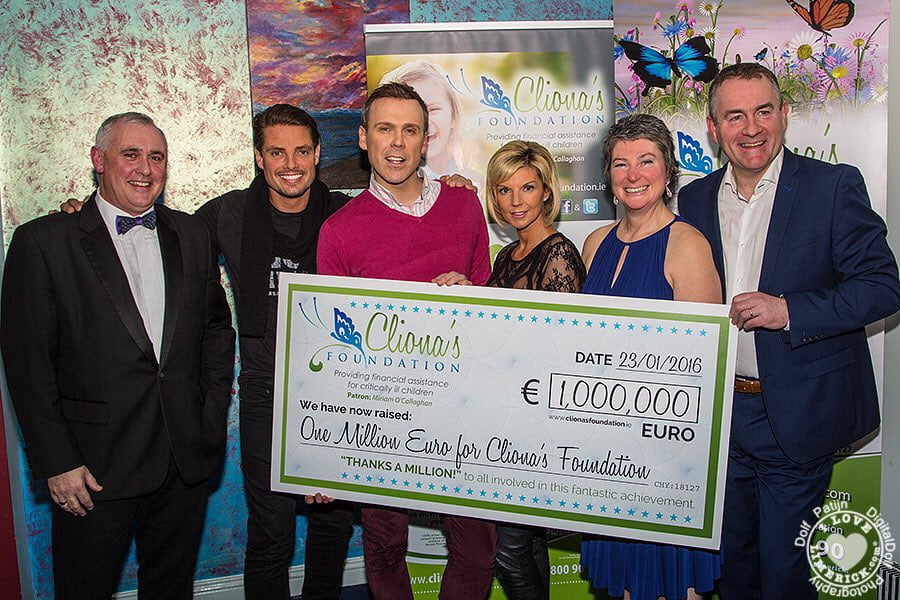 Keith Duffy celebrates with Cliona's Foundation for raising 1 million euro.
We celebrated our 9th anniversary on Saturday 23rd in Bulgaden Castle, Co. Limerick. The annual celebratory night is a permanent fixture in the diaries of many, each year it gives the charity the opportunity to thank those who have enabled Cliona's Foundation to donate much needed funding to families with critically ill children.
This year's event was made extra special when special guest singer, actor and philanthropist Keith Duffy announced Cliona's Foundation has reached a massive milestone and to date has raised €1,000,000. Prior to the event Keith made a captivating statement of why he got involved with Cliona's Foundation, "I'm delighted to be part of the celebrations and to help the Foundation with the work they do, it is something that's close to my heart as I have seen the financial burden on families caring for a critically ill child and as part of my work with the Keith Duffy Foundation which aims to provide support and financial assistance to a number of chosen children's charities throughout the country."
While doing a Q&A Keith mentioned how during the week Brendan and Terry Ring, charity founders, sent him old photos of Cliona and himself meeting many years ago at a Boyzone concert. Keith felt that Cliona brought him and the Foundation together and he told the crowd of over 300 people that Cliona and his good friend Stephen Gately were now "watching over them like two angels in heaven".
Brendan Ring expressed his gratitude to Keith for travelling down from Dublin with wife Lisa especially to attend the celebrations and referred to him as an "inspirational man". Brendan discussed the continued struggles of parents with ill children, "we realise from our own experience the expense of travelling into a hospital on a continual basis, it's paying for the simple things like a newspaper or lunch."
Having raised one million euro since its beginning Cliona's foundation looks forward with positivity and determination to grow and help even more families in the year ahead.
Next year will be another milestone when Cliona's Foundation will celebrate its 10 year anniversary.
See a video of the Keith Duffy making the announcement:
Photo and video credit: I Love Limerick